Licensing
Edit
This file is in the public domain
If the number of homesteader to 6 million may appear LUNAR REPUBLIC
Buy the moon became possible only recently. The whole solar system is already sold. The rightful owner - American Dennis Hope. He legalized the ownership and sale organized lunar sites. 30 people from NASA and two U.S. presidents. As long as the moon traders did not have problems with the law. It will probably soon be established with the Lunar Republ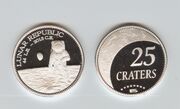 ic Embassy in the world. International law allows it, if the number of lunovladeltsev reach six million. It is assumed that in the indefinite future it will be possible to visit them and possibly inhabit. "Yes, there is a way, just 4 days."
Sale of land on the moon launched in 1980 and was made possible by the American Dennis Hope, who took advantage of the fact that the agreement signed in 1967 by UN member states "Agreement on the Moon and other celestial bodies", provides only a ban on the assignment of the Moon (or any other astronomical the body) of a State, but does not mention individuals. Taking advantage of this, Hope first applied for registration and the moon was in the property.
To date, the sale of land on the Moon has been an American company The Lunar Embassy («Lunar Embassy"), which has offices in 16 countries, including in Russia. To date, sold more than three million sites on the Moon. Standard site on the Moon has an area of ​​1 acre (which is slightly more than 0.4 hectares).
The moon is closer than you think.
ЕСЛИ ЧИСЛО ЛУНОВЛАДЕЛЬЦЕВ ДОСТИГНЕТ 6 МИЛЛИОНОВ, МОЖЕТ ПОЯВИТЬСЯ ЛУННАЯ РЕСПУБЛИКА
Купить Луну стало возможно совсем недавно. Вся Солнечная система уже продана. Законный владелец - американец Дэнис Хоуп. Он юридически оформил право собственности и организовал продажу лунных участков. 30 человек из НАСА и два американских президента. Пока у торговцев Луной не возникало проблем с законом. Вероятно, скоро будет создана Лунная республика с посольством на Земле. Международное право это позволяет, если число луновладельцев достигнет шести миллионов. Предполагается, что в необозримом будущем их можно будет посетить и, возможно, обжить. "Да тут пути-то всего 4 дня.
Продажа участков на Луне производится с 1980 года и стала возможна благодаря американцу Деннису Хоупу, который воспользовался тем, что подписанное в 1967 году странами-членами ООН «Соглашении о Луне и других небесных телах», предусматривает только запрет на присвоение Луны (и любого другого астрономического тела) каким-либо государством, но в нем не упомянуты частные лица. Воспользовавшись этим, Хоуп первым подал документы на регистрацию и получил Луну в свою собственность.
На сегодняшний день продажей участков на Луне занимается американская компания The Lunar Embassy («Лунное посольство»), которая имеет свои представительства в 16 странах, в том числе и в России. К настоящему моменту продано более трех миллионов участков на Луне. Стандартный участок на Луне имеет площадь в 1 акр (это чуть больше 0,4 гектара).
В России владельцами лунных участков на данный момент являются более 9 тысяч человек, среди которых: Семен Альтов, Александр Розенбаум, Лайма Вайкуле, Юрий Шевчук, Олег Гаркуша, Юрий Гальцев, Дмитрий Нагиев, Юрий Стоянов, Илья Олейников, Артемий Лебедев, Илья Лагутенко, Алена Свиридова, Валерий Меладзе, Андрей Аршавин, актер Александр Пороховщиков, Российский космонавт Виктор Афанасьев и другие.
Луна ближе, чем кажется.
Appears on these pages

of
If the number of homesteader to 6 million may appear LUNAR REPUBLIC Buy the moon became possible...

Licensing This file is in the public domain If the number of homesteader to 6 million may...
File history
Click on a date/time to view the file as it appeared at that time.
Metadata
Ad blocker interference detected!
Wikia is a free-to-use site that makes money from advertising. We have a modified experience for viewers using ad blockers

Wikia is not accessible if you've made further modifications. Remove the custom ad blocker rule(s) and the page will load as expected.