TAHITI
Tahiti - the native monarchical state in Oceania, with the center on the island of Tahiti. At its peak, the kingdom of Tahiti covering all the Windward Islands of the Society Islands in the central Polynesia.
In Tahiti, in the XVIII century, there were six separate domains, each with its own rulers. In the middle of the XVIII century, the area Pare managed to seize the militant leader. He died in 1767.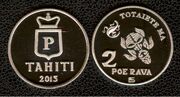 His son Pomare, as a result of the long war, was able to subdue all other possessions, and to establish its authority over the whole island. By the middle of the XIX century, ownership Pomare dynasty also extended to the island of Moorea, Society Islands in the archipelago of Society Islands and Tuamotu.
 During the reign of Queen Pomare IV of Tahiti in 1842 became a French protectorate, while the monarchy continued to exist under French rule. Revolt against the authority of the French Polynesians, broke out in the years 1842-1847, was brutally put down by French troops. In 1880, Tahiti has been turned into a French colony. King Pomare V, who inherited the throne in 1877 from his mother, signed the agreement on June 29 with the French, in which the rule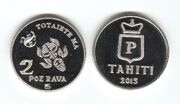 over all his state - Islands Community - passed to them.
Now some of the parties in the region are on the path to independence from France.
Side A: the royal arms of Tahiti.
Side B: shows a turtle as a local god Tangaroa, symbolizing the island of Tahiti (shape of the island resembles a large turtle) and a lizard that symbolizes the island of Moorea (translated from the Tahitian "yellow lizard"). The inscription "TOTAIETE MA" is translated as "the Society Islands."
Black Pearl - a unique creation of Tahitian nature that could not be recreated in any other on the planet, even in Japan or Australia, which has long been known for large-scale production of pearls. Only in the lagoons of the islands of French Polynesia Margarita live oysters that produce pearls of various shades of gray and black.
POE RAVA - black pearl. Two islands - two pearls.
The design of a coin is developed by Bakhtinov Vitaly (Russia).